The Mountains Are Calling
On the road again... This time with my sweet momma! Last month, my mom and I hit the road for the perfect Thelma and Louise, mother-daughter road trip. We hit 3 states in 3 days, laughing, crying, and we boomeranging from Denver to Salt Lake.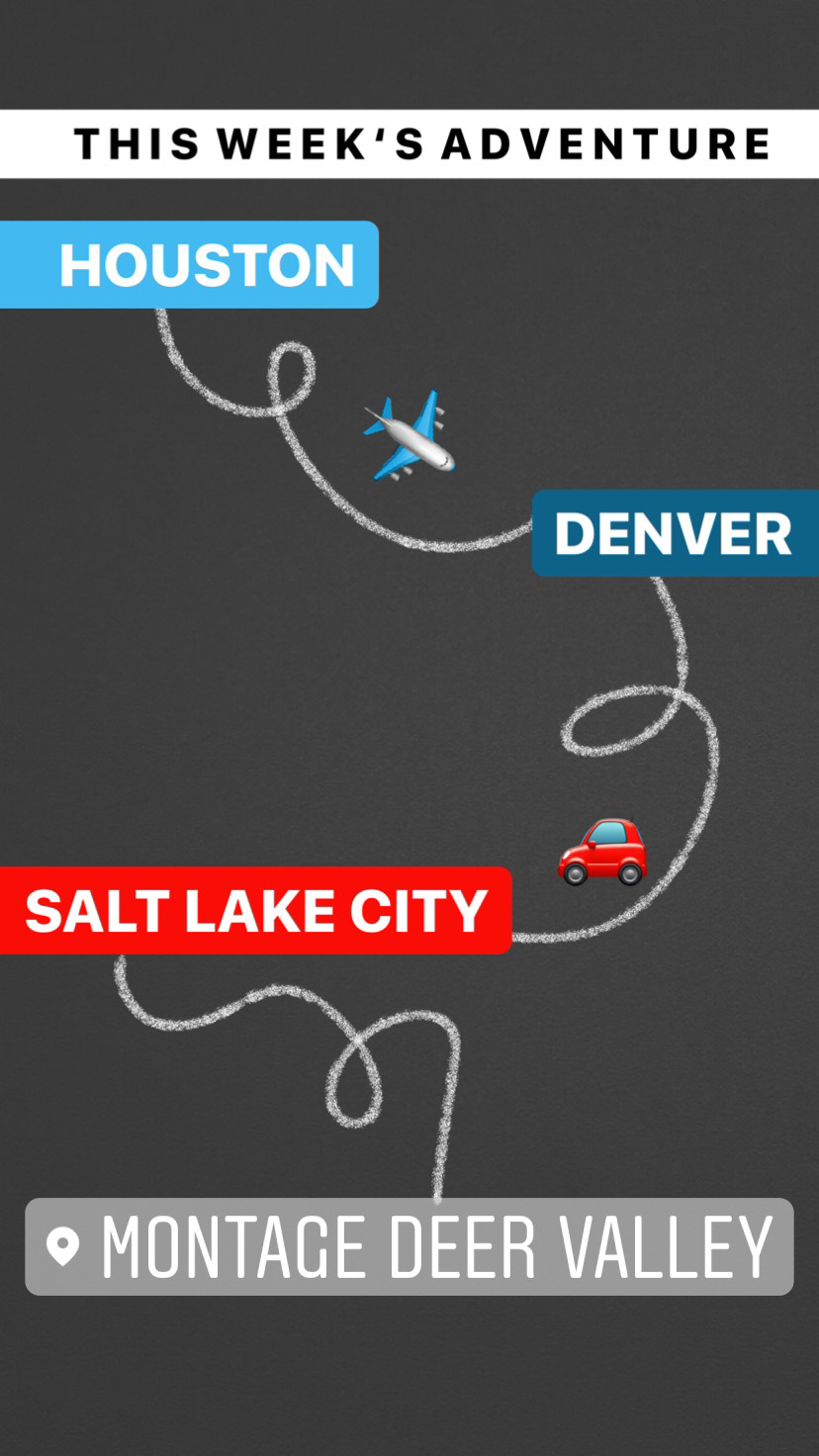 We had great food, some luxury treatment, and saw all the sights. If you're headed out west anytime soon, here are some must-sees along the way, from where to eat and stay to our favorite sights.
Where We Ate
Fair warning – the options for dining along highway 80 are few and far between, so a majority of our good-eats happened once we hit Salt Lake and during our time in Park City.
[Right Outside Denver, Colorado]
our rating: ⭐️⭐️⭐️⭐️
World famous cinnamon rolls... need I say more? Johnson's Corner was the perfect pit-stop after my early morning flight to Denver. It's basically a diner + gas station combo with the best-baked goods you've ever seen.
[Salt Lake, Utah]
our rating: ⭐️⭐️⭐️⭐️⭐️
I was dying for some GOOD coffee after the longest road-trip ever, and Publik Coffee Roasters was exactly what I had in mind. The endless toast options were the perfect breakfast before our day of sight-seeing and the mountain views from the parking lot were superb.
[Park City, Utah]
our rating: ⭐️⭐️⭐️⭐️
After our Temple Tour, we were ready to head to Park City for a late lunch and some snacks. Riverhorse is a restaurant market combo which was exactly what we needed. The food was good and the "snack" selection in the market was better than anyone could imagine.
our rating: ⭐️⭐️⭐️⭐️⭐️
This is by far one of my favorite meals while in Park City. We were here for a quick lunch, so we didn't have time to sample all the libations, but the food was even better than I expected. I had the butternut squash soup and grilled apple salad! SO.GOOD.
[Deer Valley, Utah]
our rating: ⭐️⭐️⭐️⭐️⭐️
If you've never experienced a Raclette dinner, you're missing out! The Deer Valley Resort offers this during ski season, so if you're in the area you should give it a try. It's an experience unlike anything else. Three words – Fire.Melted.Cheese.
our rating: ⭐️⭐️⭐️⭐️⭐️
Located within Montage Deer Valley, Burgers & Bourbon is one of my favorite hotel restaurants. The burgers are fabulous and the cocktails couldn't be better. Order the Sidebar with High West Double Rye... you won't be sorry.
Where We Slept
The whole goal of the trip was to get to the Montage. So really everything else was just a pit-stop... some of which was really the pits.
[Salt Lake City, Utah]
This was the perfect pit stop along the way. The basement was comfortable and conveniently located in the heart of Salt Lake City. The owners were so friendly and very accommodating.
[Deer Valley, Utah]
A Slice of heaven on earth. The Montage Deer Valley is somewhere I look forward to going to time and time again. The views are spectacular. The staff is amazing. The food is spectacular. The setting is unlike anywhere you've ever been. If you have to wake up at sunrise, it better be this kind of sunrise...
What We Did
The drive from Denver to Salt Lake City is unlike anything I've ever experienced. You really see the transition from the Rockies of Colorado to the vast openness of southern Wyoming and the beautiful peaks of Utah. It's amazing how uniquely beautiful each area is as you're experiencing it. There are parts that are truly indescribable with words alone.
[Wyoming]
The Flaming Gorge and Sheep's Creek Loop were two of my favorite spots. The gorge is spectacular. You can visibly see all the "layers" of the earth. Sheep's Creek Loop is one of the most beautiful places I've ever been. First, there's no false advertising, you will see bighorn sheep. Second, if you happen to be there in the fall, the foliage is bar-none the most amazing I've ever seen. The bright yellow against the clear blue skies could bring you to tears.
[Salt Lake City, Utah]
I've been to Salt Lake City umpteen times and not once have I gone to Temple Square to walk the grounds or listen to the history. The history of the Mormon movement west is fascinating. If you're at all interested in the history of religions you'll love to hear why the Mormon's practice in the way that they do. Also – there's nothing like organ music, and the Mormon Tabernacle is open at least 2xs a week with an organ concert.
[Park City, Utah]
Unfortunately, I was working during the Olympic Park tour, but I've been before, so I let mom explore on her own. From what I remember it's a fun place to stop by and take it all in, from the practice slopes to the bobsled downhill adventure!
[The Whole Trip]
SHOPPING – but mom especially liked the outlets in Park City.
I've shopped 'til I dropped my whole life with my mother, so why would this trip be any different? I think I could hear the tires screech as we turned in to the TJ Maxx parking lot, and then again into the Nordstrom Rack parking lot. Are you sensing a trend?
Our Favorite Parts
"An overdue adventure with my mom and a mountain view every morning." –Me & "The turn down service!" –Mom
All in all, it was a great trip. I couldn't have asked for a better travel companion, and I can't wait to see what the next adventure holds.
If you're looking for some more western adventure, check out our Colorado recap from our summer vacation!